The LIO has developed an interactive webmap with relevant GIS data for each of the eight focus area. The webmap can be used to identify and prioritize potential projects to protect and restore the health of the Puyallup Watershed.
Click the image above to access the interactive webmap. Click on the layers tab to access data layers, which are arranged in ten categories:
Priority Layers, which shows the highest priority locations for potential projects for each of the eight focus areas
Focus Area Categories, which include additional data layers to inform project prioritization or general information gathering about each focus area
Other Information, which includes census block, legislative and congressional district, and biodiversity network layers.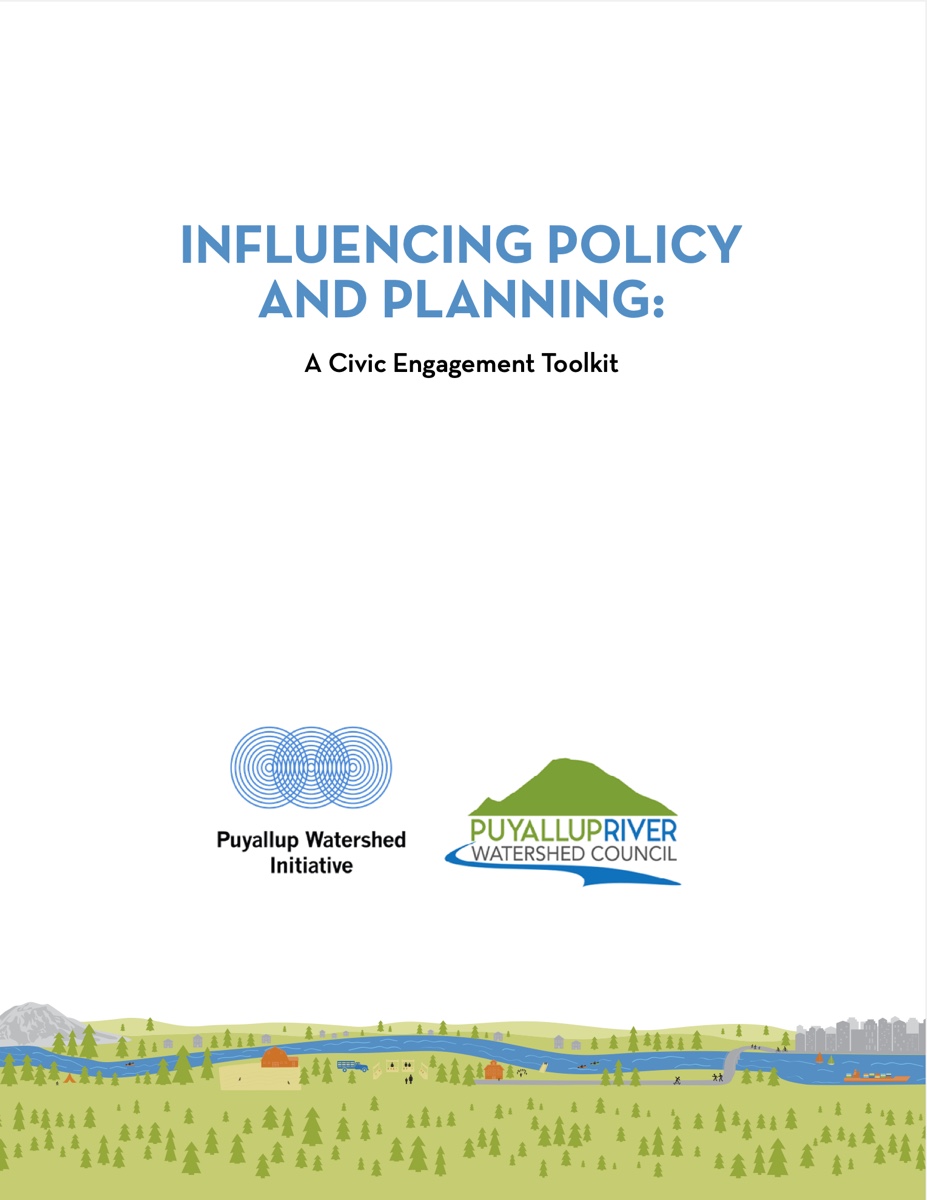 Civic Engagement Toolkit
Influencing Policy and Planning: A Civic Engagement Toolkit was developed by Forterra for the Pierce conservation District, Puyallup River Watershed Council, and Puyallup Watershed Initiative. The purpose of the Toolkit is:
"… to create a well-informed, well-organized, and well-prepared community – one that is ready to participate in policy and planning processes that affect their neighborhoods and people. Community members who are knowledgeable about these processes and are proactive with their engagement can have a powerful influence on local land use decisions that shape the future of their communities.

This publication is for practitioners, community members, and other stakeholders in policy and planning decision-making that impact the watershed. The material included in this toolkit is a synthesis of information drawn from interviews with current and former elected officials, community members, and staff members of organizations that have worked on engagement efforts; research into best practices and available tools included in other toolkits; and feedback from community members and practitioners."
Salish Sea Salmon on iNaturalist.org
We are tracking salmonid species observations in Puget Sound and the Salish Sea including spawning adults, juveniles, redds, and salmon carcasses. While this collection was created by partners of the annual Puyallup Watershed Salmon Homecoming Celebration, it is open to and includes all watersheds draining to the Salish Sea watershed.